1999 Season
1999 Scottish Claymores Game by Game
| Date | Opponent | Result | Record | Attendance |
| --- | --- | --- | --- | --- |
| 04/18/1999 (Sun) | Rhein Fire | W, 21-20 | 1-0-0 | 9,086 |
| 04/24/1999 (Sat) | @ Berlin Thunder | W, 48-14 | 2-0-0 | 9,817 |
| 05/02/1999 (Sun) | Frankfurt Galaxy | L, 42-35 OT | 2-1-0 | 10,169 |
| 05/09/1999 (Sun) | Barcelona Dragons | W, 31-21 | 3-1-0 | 8,864 |
| 05/15/1999 (Sat) | @ Rhein Fire | L, 37-6 | 3-2-0 | 22,171 |
| 05/22/1999 (Sat) | @ Frankfurt Galaxy | W, 42-35 | 4-2-0 | 33,915 |
| 05/30/1999 (Sun) | Berlin Thunder | L, 28-10 | 4-3-0 | 9,128 |
| 06/06/1999 (Sun) | @ Barcelona Dragons | L, 42-35 | 4-4-0 | 10,687 |
| 06/13/1999 (Sun) | Amsterdam Admirals | L, 29-20 | 4-5-0 | 10,415 |
| 06/19/1999 (Sat) | @ Amsterdam Admirals | L, 30-22 | 4-6-0 | 12,358 |
1999 Scottish Claymores Roster
| No | Surname | Firstname | Position | Height | Weight | Birth | College | How Acquired |
| --- | --- | --- | --- | --- | --- | --- | --- | --- |
| 15 | Ballantyne | Jon | P | 6-3 | 206 | 29/07/1969 | None | National Australia |
| 96 | Barnard | David | DT | 6-2 | 305 | 26/11/1974 | Florida | NFL Chiefs |
| 88 | Bell | Jamara (Shon) | TE | 6-5 | 257 | 25/10/1974 | Clinch Valley | NFL 49ers |
| 75 | Benoit | Jermaine | DE | 6-3 | 235 | 11/07/1975 | Central Florida | National England |
| 29 | Billups | Terry | DB | 5-10 | 180 | 09/02/1975 | North Carolina | NFL Cowboys |
| 21 | Blenman | Rowelle | WR | 5-10 | 185 | 12/03/1967 | Harper College | National England |
| 77 | Brilliant | Pierre | T | 6-7 | 320 | 08/10/1973 | Cincinatti | D10-99 |
| 89 | Byworth | Jason | WR | 6-3 | 175 | 02/06/1977 | None | National England |
| 59 | Campos | Alan | LB | 6-3 | 236 | 03/03/1973 | Louisville | NFL Cowboys |
| 19 | Clement | Ryan | QB | 6-2 | 215 | 03/03/1973 | Miami - Florida | FA99 |
| 81 | Couper | Scott | WR | 6-0 | 170 | 06/01/1970 | Strathclyde University | National Scotland |
| 2 | Craig | Dameyune | QB | 6-1 | 200 | 19/04/1974 | Auburn | NFL Panthers |
| 90 | DeLeTorre | Aaron | DT | 6-1 | 300 | 06/05/1975 | Stephen F Austin | D3-99 |
| 5 | Dolan | Chris | P | 6-1 | 230 | 22/11/1970 | Texas A&I Commerce | NFL Bears |
| 84 | Drake | Kevin | WR | 6-3 | 187 | 02/01/1975 | Alabama | NFL Cardinals |
| 94 | Dubose | Kejaun | DT | 6-2 | 290 | 04/01/1975 | Northwestern | FA99 |
| 68 | Dyson | Brandon | C | 6-3 | 284 | 31/05/1976 | Utah State | NFL Ravens |
| 95 | Ekiyor | Emil | DE | 6-2 | 253 | 25/12/1973 | Central Florida | D14-99 |
| 43 | Eloms | Joey | CB | 5-10 | 183 | 04/04/1976 | Indiana | NFL Seahawks |
| 50 | Finkes | Matt | LB | 6-2 | 258 | 12/05/1975 | Ohio State | D7-99 |
| 91 | Flickenger | Robert | DE | 6-4 | 245 | 21/09/1971 | Georgetown | National England |
| 11 | Grant | Robert | K | 6-3 | 220 | 03/01/1977 | None | National Scotland |
| 8 | Hart | Robert | K | 5-10 | 171 | 04/11/1974 | Murray State | National England |
| 23 | Haynes | Jesse | RB | 5-9 | 206 | 08/08/1972 | NW Missouri State | NFL Chiefs |
| 78 | Hernandez | Adam | T | 6-5 | 280 | 14/11/1976 | Yale | NFL Bears |
| 53 | Hesse | Jon | LB | 6-4 | 250 | 06/06/1973 | Nebraska | NFL Rams |
| 97 | Hoffman | Jim | DT | 6-4 | 290 | 14/12/1972 | Arizona | NFL Chiefs |
| 35 | Horiguchi | Yasuchi | RB | 5-9 | 187 | 19/07/1970 | Ritsumeikan University | National Japan |
| 24 | Ivory | Clifford | DB | 6-3 | 247 | 06/06/1973 | Troy State | NFL Chargers |
| 1 | Jenkins | Michael | WR | 6-4 | 200 | 25/07/1974 | Hampton | NFL Seahawks |
| 0 | Joseph | Terrance | CB | 6-2 | 220 | 14/02/1975 | Tulsa | NFL Steelers |
| 0 | Kenny | Marchant | LB | 0 | 0 | | Southern Mississippi | |
| 28 | Mosley | Denorse | DB | 6-1 | 180 | 15/02/1975 | Edinboro, PA | NFL Packers |
| 79 | Moss | Eric | G | 6-5 | 325 | 25/07/1974 | Ohio State | NFL Vikings |
| 83 | Murphy | Yo | WR | 5-10 | 187 | 05/11/1971 | Idaho | D3-96 |
| 54 | Olson | Ryan | LB | 6-2 | 273 | 27/06/1975 | Colorado | NFL Steelers |
| 93 | Palmer | Emile | DE | 6-3 | 320 | 05/01/1973 | Syracuse | FA99 |
| 71 | Parks | Nathan | T | 6-5 | 303 | 24/10/1974 | Stanford | NFL Chiefs |
| 44 | Reader | Jamie | RB | 5-11 | 233 | 04/05/1974 | Akron | NFL Dolphins |
| 87 | Reith | Graeme | WR | 6-2 | 187 | 05/06/1973 | None | National Scotland |
| 52 | Rice-Locket | Terry | LB | 6-2 | 258 | 15/03/1975 | Louisville | NFL Chiefs |
| 45 | Rosga | Steve | S | 6-1 | 205 | 10/07/1974 | Colorado | D12-99 |
| 38 | Rowe | Joe | CB | 6-0 | 195 | 08/12/1973 | Virginia | FA99 |
| 51 | Russ | Bernard | LB | 6-0 | 225 | 04/11/1976 | West Virginia | NFL Patriots |
| 99 | Sargeant | Shatony | DT | 6-5 | 285 | 27/09/1975 | Fresno State | D5-99 |
| 4 | Sellers | Donald | WR | 6-0 | 195 | 30/12/1974 | New Mexico | NFL Rams |
| 20 | Shamburger | Cliff | DB | 5-9 | 190 | 22/07/1974 | Troy State | Waivers 99 |
| 76 | Sims | Barry | T | 6-5 | 315 | 12/01/1974 | Utah | D17-99 |
| 22 | Smith | Emory | RB | 5-11 | 251 | 21/05/1974 | Clemson | D15-99 |
| 33 | Snell | Ben | RB | 6-2 | 225 | 24/07/1976 | Ohio Northern | NFL Ravens |
| 67 | Stokes | Barry | G | 6-4 | 294 | 20/12/1973 | Eastern Michigan | NFL Dolphins |
| 91 | Tovo | Tom | DE | 6-4 | 290 | 20/07/1971 | None | National England |
| 12 | Tsuji | Haruhito | QB | 6-0 | 185 | 26/01/1971 | Tokai University | National Japan |
| 50 | Waldron | Emmett | LB | 6-1 | 246 | 18/10/1971 | Rice | National Ireland |
| 39 | Watkins | Tony | S | 5-11 | 214 | 16/04/1971 | South Carolina | D8-99 |
| 36 | Wiggins | Lee | CB | 5-11 | 198 | 27/04/1975 | South Carolina | D2-99 |
| 72 | Zitelli | Emmett | C | 6-3 | 295 | 13/03/1974 | Purdue | NFL Bears |
1999 Scottish Claymores Statistics
| Passing | Att | Cmp | Yds | Cmp% | Yds/Att | TD | TD% | Int | Int% | Lg | Sk/Lost | Rating |
| --- | --- | --- | --- | --- | --- | --- | --- | --- | --- | --- | --- | --- |
| Craig, D | 339 | 198 | 2932 | 58.4 | 8.65 | 21 | 6.1 | 12 | 3.5 | 86t | 20/144 | 92.7 |
| Clement, R | 2 | 1 | 10 | 50 | 5 | 0 | 0 | 0 | 0 | 10 | 0/0 | 64.6 |
| TOTALS | 341 | 199 | 2942 | 58.4 | 8.63 | 21 | 6.2 | 12 | 3.5 | 86t | 20/144 | 92.6 |
| Rushing | Att | Yds | Avg | TD | Lg |
| --- | --- | --- | --- | --- | --- |
| Jesse Haynes | 102 | 384 | 3.8 | 7 | 35 |
| Dameyune Craig | 53 | 276 | 5.2 | 3 | 23 |
| Ben Snell | 37 | 147 | 4.0 | 0 | 22 |
| Jamie Reader | 27 | 43 | 1.6 | 0 | 11 |
| Emory Smith | 5 | 25 | 5.0 | 0 | 12 |
| Vernon Turner | 7 | 16 | 2.3 | 0 | 12 |
| Donald Sellers | 3 | 15 | 5.0 | 0 | 11 |
| Yo Murphy | 1 | 2 | 2.0 | 0 | 2 |
| TOTALS | 235 | 908 | 3.9 | 10 | 35 |
| Receiving | Rec | Yds | Avg | TD | Lg |
| --- | --- | --- | --- | --- | --- |
| Donald Sellers | 58 | 931 | 16.1 | 7 | 71 |
| Yo Murphy | 45 | 752 | 16.7 | 4 | 75t |
| Jesse Haynes | 18 | 311 | 17.3 | 4 | 86t |
| Jamie Reader | 16 | 187 | 11.7 | 0 | 50 |
| Shonn Bell | 15 | 247 | 16.5 | 3 | 36 |
| Ben Snell | 12 | 60 | 5.0 | 0 | 23 |
| Kevin Drake | 11 | 181 | 16.5 | 2 | 48t |
| Scott Couper | 11 | 106 | 9.6 | 1 | 18 |
| Mike Jenkins | 10 | 147 | 14.7 | 0 | 49 |
| Emory Smith | 3 | 20 | 6.7 | 0 | 14 |
| TOTALS | 199 | 2942 | 14.8 | 21 | 86t |
| Kickoff Returns | Num | Yds | Avg | FC | TD | Lg |
| --- | --- | --- | --- | --- | --- | --- |
| Yo Murphy | 23 | 600 | 26.1 | 0 | 1 | 89t |
| Jesse Haynes | 14 | 232 | 16.6 | 0 | 0 | 31 |
| Mike Jenkins | 5 | 83 | 16.6 | 0 | 0 | 35 |
| Denorse Mosley | 4 | 35 | 8.8 | 0 | 0 | 15 |
| Rowelle Blenman | 1 | 17 | 17.0 | 0 | 0 | 17 |
| Donald Sellers | 1 | 15 | 15.0 | 0 | 0 | 15 |
| Scott Couper | 1 | 3 | 3.0 | 0 | 0 | 3 |
| Kevin Drake | 1 | 0 | 0.0 | 0 | 0 | 0 |
| TOTALS | 50 | 985 | 19.7 | 0 | 1 | 89t |
| Punt Returns | Num | Yds | Avg | FC | TD | Lg |
| --- | --- | --- | --- | --- | --- | --- |
| Mike Jenkins | 8 | 86 | 10.8 | 3 | 0 | 18 |
| Yo Murphy | 7 | 65 | 9.3 | 7 | 0 | 20 |
| Joey Eloms | 5 | 23 | 4.6 | 2 | 0 | 11 |
| Kevin Drake | 0 | 0 | 0 | 1 | 0 | 0 |
| TOTALS | 20 | 174 | 8.7 | 13 | 0 | 20 |
| Punting | Punts | Yds | Avg | Lg | TB | In20 | Blk | Ret | Yds | Net |
| --- | --- | --- | --- | --- | --- | --- | --- | --- | --- | --- |
| Chris Dolan | 36 | 1655 | 46.0 | 59 | 7 | 12 | 0 | 18 | 144 | 38.1 |
| Jon Ballantyne | 1 | 56 | 56.0 | 56 | 0 | 0 | 0 | 0 | 0 | 56.0 |
| Steve Rosga | 1 | 32 | 32.0 | 32 | 0 | 0 | 0 | 0 | 0 | 32.0 |
| TOTALS | 38 | 1743 | 45.9 | 59 | 7 | 12 | 0 | 18 | 144 | 38.4 |
| Kicking | PAT | FG | 0-19 | 20-29 | 30-39 | 40-49 | 50+ | Lg | Pts |
| --- | --- | --- | --- | --- | --- | --- | --- | --- | --- |
| Rob Hart | 32/32 | 8/12 | 0/0 | 3/4 | 4/6 | 1/2 | 0/0 | 42 | 56 |
| TOTALS | 32/32 | 8/12 | 0/0 | 3/4 | 4/6 | 1/2 | 0/0 | 42 | 56 |
| Defense | Sacks | Loss | Ints | Yds | Avg | TDs | Lg |
| --- | --- | --- | --- | --- | --- | --- | --- |
| Jermaine Benoit | 3.0 | -- | 0 | 0 | 0 | 0 | 0 |
| Alan Campos | 2.0 | -- | 0 | 0 | 0 | 0 | 0 |
| Aaron DeLaTorre | 2.0 | -- | 0 | 0 | 0 | 0 | 0 |
| Joey Eloms | 0.0 | -- | 3 | 98 | 32.7 | 1 | 90t |
| Matt Finkes | 1.0 | -- | 1 | 8 | 8.0 | 0 | 8 |
| Clifford Ivory | 0.0 | -- | 1 | 59 | 59.0 | 1 | 59t |
| Brad Keeney | 1.0 | -- | 0 | 0 | 0 | 0 | 0 |
| Denorse Mosley | 0.0 | -- | 2 | 0 | 0.0 | 0 | 0 |
| Emile Palmer | 2.0 | -- | 0 | 0 | 0 | 0 | 0 |
| Steve Rosga | 1.0 | -- | 2 | 45 | 22.5 | 0 | 27 |
| Shatony Sargeant | 3.0 | -- | 0 | 0 | 0 | 0 | 0 |
| Clifton Shamburger | 1.0 | -- | 2 | 10 | 5.0 | 0 | 10 |
| Tony Watkins | 0.0 | -- | 2 | 47 | 23.5 | 0 | 47 |
| Lee Wiggins | 0.0 | -- | 1 | 0 | 0.0 | 0 | 0 |
| TOTALS | 16.0 | 0.0 | 14 | 267 | 19.1 | 2 | 90t |
1999 NFL Europe League Standings
| Team | W | L | T | Pct | PF | PA | Home | Away |
| --- | --- | --- | --- | --- | --- | --- | --- | --- |
| Barcelona Dragons | 7 | 3 | 0 | .700 | 263 | 246 | 4-1-0 | 3-2-0 |
| Frankfurt Galaxy | 6 | 4 | 0 | .600 | 239 | 223 | 3-2-0 | 3-2-0 |
| Rhein Fire | 6 | 4 | 0 | .600 | 286 | 149 | 3-2-0 | 3-2-0 |
| Amsterdam Admirals | 4 | 6 | 0 | .400 | 236 | 243 | 3-2-0 | 1-4-0 |
| Scottish Claymores | 4 | 6 | 0 | .400 | 270 | 298 | 2-3-0 | 2-3-0 |
| Berlin Thunder | 3 | 7 | 0 | .300 | 173 | 308 | 2-3-0 | 1-4-0 |
×
Claymores Open Season in Winning Style
CLAYMORES quarterback DAMEYUNE CRAIG led from the front, helping his team to victory in their 1999 season opener. The Carolina Panthers passer threw for one touchdown and ran one in himself, as the Claymores recorded a 21-20 win against Rhein Fire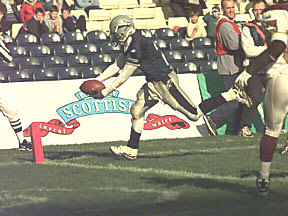 Leading by example: Dameyune Craig runs in the crucial tying score
The second of those score tied the game at 20-20, with 1:21 remaining in the game. And it was an Englishman, kicker ROB HART, who scored the decisive point in a thrilling encounter.
Things started badly for the Claymores, as Rhein scored on their opening drive. A 50 yard grab by DIALLEO BURKS set up KENNY BYNUM's 2 yard touchdown run. Veteran kicker MANNY BURGSMULLER booted the extra point, giving Rhein a 7-0 lead which remained until half time.
The Claymores levelled things up midway through the third period, when MATT FINKES picked up a loose ball and returned it 13 yards for a touchdown. Hart, who had earlier missed a 40 yard field goal made it 7 apiece.


Rhein restored their lead later in the quarter with a 19 yard pass from MIKE CHERRY to KEZ MCCORVEY. And they increased it further early in the fourth, when DIALLEO BURKS broke free for a 76 yard scoring catch. However Burgsmuller's kick was no good, leaving the German side with only a 13 point lead, which proved crucial later on.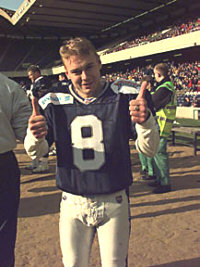 Hart attack: Kicker Rob Hart, whose 3 extra point kicks proved crucial
Claymores closed the gap when veteran receiver YO MURPHY caught a 29 yard pass from Craig. And when they got the ball back with 7:28 remaining in the game, the stage was set for a memorable victory.
After driving 73 yards down the field, the Claymores were faced with 4th and goal. Craig dropped back to pass, saw no-one open and ran into the corner of the endzone himself. Rob Hart was good with his third extra point of the day to give the Claymores a narrow 1 point lead.
After 3 pass attempts had fallen incomplete, Fire QB Cherry was sacked on fourth down by JERMAINE BENOIT, and the Claymores were able to run out the clock for the win.
Following the game, Head Coach Jim Criner praised the "12th man" on his team, the supporters in the stands. The noise they generated in the closing minutes was a big factor in shutting the Fire offense down, and holding on for the win.
Game Summary
| | | | | | |
| --- | --- | --- | --- | --- | --- |
| | 1st | 2nd | 3rd | 4th | Latest |
| Claymores | 0 | 0 | 7 | 14 | 21 |
| Fire | 7 | 0 | 7 | 6 | 20 |
1st Quarter
0-7
12:31 Rhe - K.Bynum - 2yd TD run
(M.Burgsmuller extra point)
2nd Quarter
3rd Quarter
7-7
7:57 Sco - M.Finkes - 13 yd TD fumble recovery
(R.Hart extra point)

7-14
1:59 Rhe - K.McCorvey - 19yd TD pass from M.Cherry
(M.Burgsmuller extra point)
4th Quarter
7-20
13:52 Rhe - D.Burks - 76 yd TD pass from M.Cherry
(PAT missed - wide left)

14-20
8:30 Sco - Y.Murphy - 29 yd TD pass from D.Craig
(R.Hart extra point)

21-20
1:21 Sco - D.Craig - 6 yd TD run
(R.Hart extra point)
×
Claymores Whip Up a Storm Against Thunder
A STUNNING first half performance by the Claymores offense, in which they broke an NFLE scoring record, gave the team their second win of the season against Berlin. DAMEYUNE CRAIG threw 4 touchdown passes, 2 to tight end SHON BELL, as the Claymores ran out comfortable 48-14 winners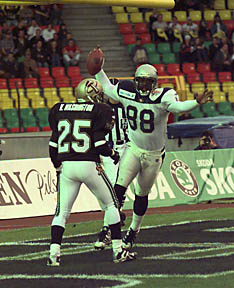 Ring My Bell: TE Shon Bell celebrates one of his 2 scores against Berlin
The first NFL Europe League game to be played in Berlin started with a bang. But it was the Claymores, and not new boys Berlin Thunder, who were making all the noise. On the Claymores second play of the game, running back JESSE HAYNES broke through for an 86 yard TD reception from Craig to take an early lead.
Haynes increased the Claymores' lead on their next possession, with an 8 yard touchdown run. ROB HART was spot on with both extra points, to give the Claymores an early 14-0 lead.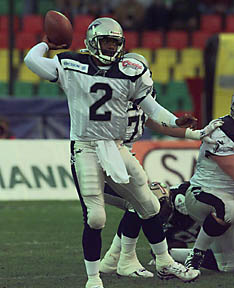 Thunderbolt: Craig led Scotland to a record first half points haul
Berlin got on the board with their next drive, when ANDRE WARE found ANTHONY RODGERS in the end zone.
But any thoughts of a Thunder comeback were put on ice when Craig threw for his second touchdown of the night, this time a 21 yarder to tight end SHON BELL. And the Claymores continued to dominate the game on the following kickoff, when national star ROWELLE BLENMAN recovered a Berlin fumble, to give Scotland the ball back deep in the Germans' half. Craig converted the turnover into points with a 13 yard toss to Yo Murphy.
And the Claymores offense completed a magical first half with Bell's second touchdown of the game, this time a 13 yard grab from Craig to make the score 35 - 7. Rob Hart's extra point set a new NFL Europe record for points scored in a half.
Scotland increased its lead further on their opening drive of the second half, when Rob Hart booted a 31 yard field goal for a 38 - 7 scoreline.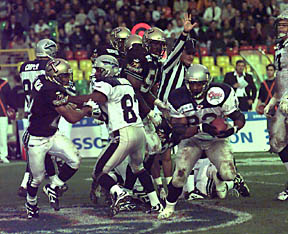 Ground attack: Jesse Haynes, double TD hero, gains some yardage
Late in the quarter Berlin scored again, this time Ware found MARCUS HINTON for a 14 yard score, giving the home fans a glimmer of hope that their team could somehow pull this one back.
But the only scoring left to be done was by the Claymores. A 22 yard field goal from Rob Hart, his seventh successful kick of the night, and a 57 yard interception return from CLIFFORD IVORY finished the game off, making the final score 48 - 14.
×
Claymores Brought Down to Earth by Galaxy
THE CLAYMORES unbeaten run was brought to a close on Sunday, thanks to an overtime defeat at the hands of Frankfurt Galaxy. The 42-35 loss, in the first overtime game to be played at Murrayfield, leaves Barcelona the only undefeated team in the League.

Short Lived: Kevin Drake's touchdown celebration wasn't repeated at the final whistle
Things started badly for the Claymores, as Galaxy took the early lead on a 13 yard pass from JAKE DELHOMME to TODD FLOYD. They went further ahead in the second quarter, as veteran MARIO BAILEY caught a 14 yard pass from PAT BARNES.
But the Claymores weren't about to give up, and struck back on their next possession. DAMEYUNE CRAIG found KEVIN DRAKE in the end zone to cap a 66 yard drive.
And they levelled things up late in the half, when JOEY ELOMS intercepted Barnes, and ran to ball back 90 yards for the score. ROB HART's extra point made the halftime score 14 apiece.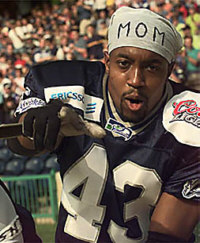 Hi Mom: Joey Eloms 2 interceptions, one for a TD, earned him MVP honours
The Scots started the second half as strongly as they had finished the first. DENORSE MOSLEY intercepted Barnes in the end zone, when Frankfurt were looking likely to score. And they took a 3 point lead on the following possession, when Hart booted a 39 yard field goal. Frankfurt went back on top when Delhomme found Shawn Scales for a 3 yard touchdown, to make the score 21 - 17.


In the fourth quarter, sparks really began to fly as both teams went all out for the win. Frankfurt's JERMAINE CHANEY raced round the Claymores right end for a 47 yard touchdown on the second play of the period, to leave the Claymores more than 10 points behind for the second time in the game.
Joey Eloms got his second pick of the night, and the Claymores made the most of it. YO MURPHY's third touchdown in as many games, a 43 yard catch from Craig, cut the lead to 5. A successful 2 point conversion, as DONALD SELLERS latched on to a Craig pass, and Rob Hart's second field goal of the night, from 42 yards out, tied the game at 28 - 28.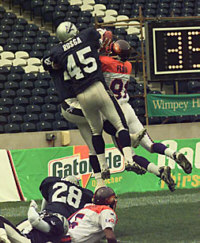 No way: Steve Rosga and Joey Eloms break up a Frankfurt Hail Mary pass as time expires
Still there was more to come. Galaxy went back on top on their next possession, when Barnes found ANDY MCCULLOUGH for a 39 yard touchdown. RALF KLEINMANN, perfect all night, made it 35 - 28 with 2:21 remaining.
And with just 31 seconds left in the game, Damyune Craig delighted the 10,196 fans in the stands with a 1 yard QB sneak. Hart's extra point tied the game up at 35 - 35, sending the game into overtime.
NFL Europe League overtime rules allow both teams a possession before the game becomes sudden death. And Galaxy made the most of theirs, Pat Barnes emulating Craig's efforts with a QB sneak of his own.
Which meant that Scotland had to score 7 to keep the game alive. After driving his team down to the Galaxy 10, Craig fumbled the ball as he was sacked, and Frankfurt recovered to clinch victory in an epic encounter, 42 - 35.
Game Summary
| | | | | | | |
| --- | --- | --- | --- | --- | --- | --- |
| | 1st | 2nd | 3rd | 4th | OT | Final |
| Claymores | 0 | 14 | 3 | 18 | 0 | 35 |
| Galaxy | 7 | 7 | 7 | 14 | 7 | 42 |
1st Quarter
3:33 0-7
Fra - T.Floyd 13yd pass from J.Delhomme
(R.Kleinmann extra point)
2nd Quarter
9:01 0-14
Fra - M.Bailey 14yd pass from P.Barnes
(R.Kleinmann extra point)

4:02 7-14
Sco - K.Drake 12yd pass from D.Craig
(R.Hart extra point)

0:03 14-14
Sco - J.Eloms 90yd interception return
(R.Hart extra point)


3rd Quarter
9:10 17-14
Sco - R.Hart 39yd field goal

4:19 17-21
Fra - S.Scales 3yd pass from J.Delhomme
(R.Kleinmann extra point)


4th Quarter
14:21 17-28
Fra - J.Chaney 47yd run
(R.Kleinmann extra point)

8:29 25-28
Sco - Y.Murphy 43yd pass from D.Craig
(2 pt conversion - D.Sellers pass from D.Craig)

4:24 28-28
Sco - R.Hart 42yd field goal

2:21 28-35
Fra - A.McCullough 39yd pass from P.Barnes
(R.Kleinmann extra point)

0:31 35-35
Sco - D.Craig 1yd run
(R.Hart extra point)


Overtime
5:47 35-42
Fra - P.Barnes 1yd run
(R.Kleinmann extra point)

Attendance: 10,169
×
Claymores Put Dragons to the Sword
THE SCOTTISH CLAYMORES put the NFL Europe League-leading Barcelona Dragons to the sword today, Sunday May 9, 1999, with a crucial 31-21 victory at Murrayfield Stadium, swinging them to joint-top of the NFL Europe League.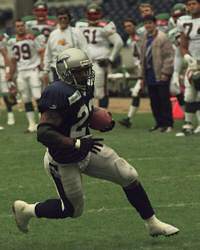 Big Gains: Game MVP Jesse Haynes sprints past the Dragons defense
Two touchdown scores by St. Louis Rams allocated wide receiver DONALD SELLERS and Kansas City Chiefs loaned running back JESSE HAYNES, proved decisive for the Claymores (3-1) as they brought the Dragons' (3-1) undefeated start to the 1999 NFL Europe League season to an end.
In a thrilling battle at Murrayfield, which saw the Claymores open the scoring through a 14-yard touchdown run from Haynes, Barcelona hit back with two touchdowns from wide receivers BRIAN FINNERAN (five yards and six yards) and MARCO MARTOS (six yards).
The Claymores replied with a one-yard running score from Haynes and 24-yard and five-yard scoring strikes from Carolina Panthers allocated quarterback DAMEYUNE CRAIG to wide receiver Sellers.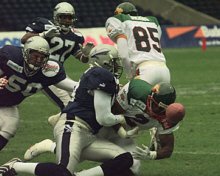 Drill Sargeant: Shatony Sargeant forces a fumble from Lawrence Phillips
Craig turned in another stellar performance for the Scots completing 15 passes for 231 yards and two touchdowns. Sellers came up with five receptions for 58 yards and two touchdowns while Haynes notched up 74 yards on 15 carries and two touchdowns.


The turning point in the match was provided by the Scots 'Highland Sting' defence. It came at the start of the third quarter when Claymores defensive tackle EMILE PALMER sacked Dragons' Minnesota Vikings-allocated quarterback TODD BOUMAN, forcing the fumble and recovering the ball himself.
The Claymores defence secured victory late in the game with two interceptions - safeties STEVE ROSGA and TONY WATKINS picking off Bouman in the fourth quarter.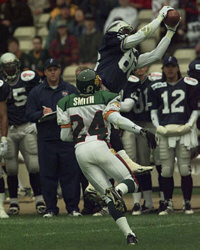 Diving Bell: Shon Bell stretches full out to make this grab
The Claymores hard-hitting defence also limited Barcelona's League-leading running back LAWRENCE PHILLIPS to 95 yards on 19 carries - the first time the Dragons rusher has failed to break the 100-yard mark in a game this season.
English kicker ROB HART added to the Claymores tally with four extra point conversions and a 26-yard field goal.
The win propels the Claymores to a 3-1 record - joint top of the NFL Europe League standings alongside the Dragons and Frankfurt Galaxy.
Following the key victory, Claymores head coach JIM CRINER, said: "This game ranks as one of our best ever. We played a complete football game and our players did everything that a coach could ask them to do.
"It was a very solid performance from our offence and special teams and the defence really got after the Dragons on every play. They shut down the League's best runner and a very good passing game. They were anxious to make amends for last week's defeat and they certainly did that."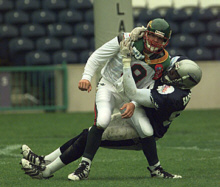 Sack Time: Shatony Sargeant introduces Dragons QB Tobb Bouman to the Murrayfield turf
In other NFL Europe League weekend action, Frankfurt Galaxy defeated Rhein Fire 13-7 while Amsterdam Admirals thrashed Berlin Thunder 49-23.
The 10-week NFL Europe regular season will determine the finalists for World Bowl '99, presented by Holsten Pilsener, to be held in Dusseldorf's Rheinstadion on Sunday, June 27. The top two teams in the standings will contest the championship game.
The Claymores go on the road for a German double-header starting with this Saturday's, May 15, match up with Rhein Fire in Dusseldorf. The following week the Scots return to German soil to take on Frankfurt Galaxy in the Waldstadion on May 22.
Jim Criner's team return home on May 30 when they kick-off their Glasgow series of matches at the National Stadium, Hampden Park against Berlin Thunder the day after the Scottish Football Cup Final followed by the Amsterdam Admirals on June 13.Tickets for all Claymores matches are available by calling the Claymores ticket hotline on 0500 35 35 35.
Game Summary

| | | | | | | |
| --- | --- | --- | --- | --- | --- | --- |
| | 1st | 2nd | 3rd | 4th | OT | Final |
| Claymores | 7 | 7 | 10 | 7 | | 31 |
| Dragons | 0 | 14 | 0 | 7 | | 21 |
1st Quarter
12:08 7-0
Sco - J.Haynes 14yd TD run
(R.Hart extra point)


2nd Quarter
12:49 7-7
Bar - M.Martos 6yd TD pass from L.Phillips
(J.Angoy extra point)

4:57 14-7
Sco - J.Haynes 1yd TD run
(R.Hart extra point)

0:26 14-14
Bar - B.Finneran 5yd TD pass from T.Bouman
(J.Angoy extra point)


3rd Quarter
9:15 21-14
Sco - D.Sellers 24yd TD pass from D.Craig
(R.Hart extra point)

1:54 24-14
Sco - R.Hart 26yd Field Goal


4th Quarter
12:16 31-14
Sco - D.Sellers 5yd TD pass from D.Craig
(R.Hart extra point)

5:36 31-21
Bar - B.Finneran 5yd TD pass from T.Bouman
(J.Angoy extra point)

Attendance: 8,863
×
Claymores Burned by Fire
THE Scottish Claymores suffered a 37-6 defeat in Dusseldorf on Saturday night - defending World Bowl champions Rhein Fire keeping their dream of back-to-back championships alive overpowering Jim Criner's team in front of 22,171 in the Rheinstadion.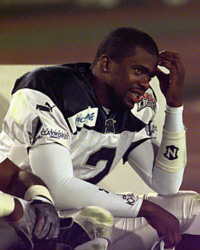 No Answer: Dameyune Craig tries to figure out a way to break down the Fire defense
A second-quarter, 20-point blitz directed by Rhein's World Bowl '98 hero quarterback Jim Arellanes dealt the Scots a fatal blow dropping them to 3-2, while lifting Fire to 2-3 in Week Five of the NFL Europe League regular season.
Arellanes had 14 completions for 249 yards throwing four touchdown passes to four different wide receivers with Jason Tucker, Anthony McKinney, Dialleo Burks and Kez McCorvey all getting on the scoresheet for Rhein.
Former German soccer star Manfred Burgsmuller added to Fire's tally with two field goals from 24 and 18 yards and four point after conversions.
The Scots only consolation on a dismal night came when wide receiver Yo Murphy returned a kick-off 89 yards for touchdown late in the fourth quarter.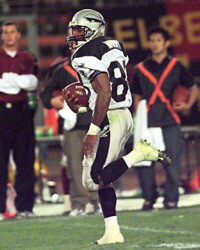 All the way: Yo Murphy returned a kick off 89 yards for a TD
Afterwards, head coach Criner, said: "I'm extremely disappointed in our football team. It was just a horrible effort on our part and as bad a performance that I have ever been associated with.


"I take my hat off to Rhein Fire coach Galen Hall and his staff - they did an excellent job getting their team ready and played extremely well."
And coach Criner continued: "I don't think I've ever seen so many errors made in one football game. We made enough errors tonight to last us a whole season. We just did a lot of dumb things that hurt our offense. It was not a good effort from us, but an outstanding one from Rhein."
Criner challenged his squad for the rest of the season, saying: "If our team has a backbone, we will come back from this. We'll find out this week. If I'd played a football game like that I'd make sure I didn't embarrass myself like that again."
The match started positively enough for the Claymores when Yo Murphy broke Allen DeGraffendreid's long-standing club reception yardage record of 1,074 with a 41-yard catch from quarterback Dameyune Craig on the Claymores first offensive play.
But it was Rhein who scored first, when quarterback Arellanes capped a 10-play, 90-yard drive firing a 20-yard touchdown pass to Dallas Cowboys allocated wide receiver Jason Tucker. Burgsmuller kicked the PAT and Rhein led 7-0 with 48 seconds to play in the first quarter.
Fire added to their lead at the start of the second quarter when Arellanes linked up with tight end McKinney on a nine-yard strike with Burgsmuller again good with the PAT to make it 14-0.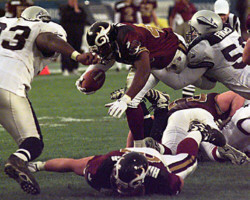 Top Tackler: Matt Finkes, who recorded 9 solo stops, hauls Derrick Clark down
Fortune was not on the Claymores side when, on the restart cornerback Denorse Mosley fielded a short kick only to fumble it as he collided with wide receiver Michael Jenkins. Rhein linebacker Mike Lowery recovered giving Fire great field position and possession at the Scots 29.
Five plays later, Arellanes hit Burks who was wide open in the endzone for Fire's third touchdown strike. Burgsmuller kicked the conversion for a 21-0 lead with five minutes to play in the half, but the nightmare quarter was not over for the Claymores.
Carolina Panthers allocated quarterback Craig threw only his second interception of the season on the Claymores next offensive series - cornerback Dell McGee coming up with the pick to set Rhein up at the Scots' 44.
Burgsmuller took advantage nailing a 24-yard field goal to make it 24-0, and the enslaught continued when, on the Claymores next possession, Craig was sacked by Fire defensive end Mike Sutton forcing a fumble which was recovered by Rhein defensive end Carl Powell in Scotland territory allowing Burgsmuller to kick an 18-yard field goal for a 27-0 half-time lead.
Fire burned the Claymores at the start of the second half when, pinned on their own four yard-line, Arellanes threw a 10-yard sideline strike to McCorvey. The former Florida State wide out beat two defenders and sprinted 96 yards for a crushing score.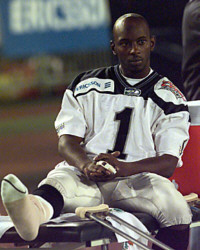 Stunned: Michael Jenkins can't believe what is happening on the field
Again Burgsmuller was good with the extra point to make it 34-0 and, following a Jamie Reader fumble at the start of the fourth quarter struck again with a 27-yard field goal to increase the lead to 37-0.
The Claymores got a consolation score with nine minutes to play - Murphy weaving his way through would-be tacklers on a stunning 89-yard kick-off return for touchdown. The Scots went for two, but Craig's pass to wide receiver Scott Couper fell incomplete. Rhein then ran out the clock to claim a vital 37-6 victory which keeps them in the World Bowl hunt.
The Claymores will aim to get their World Bowl '99 challenge back on track with the second-half of their German double-header when they visit Frankfurt Galaxy in the Waldtstadion this Saturday, May 23. The Scots return home for two games in Glasgow at Hampden Park on May 30 against Berlin Thunder and again on June 13 when they take on Amsterdam Admirals.
×
Claymores Blast Galaxy with Record Breaking Display
THE SCOTTISH CLAYMORES staked their claim for a place in World Bowl '99 with a record-breaking 42-35 victory over Frankfurt Galaxy in front of a noisy 33,915 crowd inside the hostile Waldstadion on Saturday night.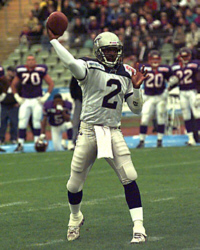 Record Breaker: Dameyune Craig threw for 611 yards and 5 TDs to lead his team to victory
Claymores' Carolina Panthers allocated quarterback DAMEYUNE CRAIG shattered the NFL Europe League record for passing yardage throwing 27 passes for an amazing 611 yards and five touchdowns.
And St. Louis Rams' allocated wide receiver DONALD SELLERS smashed the League's receiving yardage record with a stunning nine catches for 264 yards and three touchdowns.
Fellow receiver YO MURPHY (eight catches, 149 yards and one touchdown), tight end SHON BELL (five catches for 96 yards) and running back JESSE HAYNES, also notched up touchdowns for JIM CRINER's high-flying Scots during an explosive offensive display in a thrilling match that went right down to the wire.
The crucial victory propelled the Claymores to a 4-2 record and puts them back on track for their second appearance in the World Bowl, which they last won in 1996. Jim Criner's side will next host Berlin Thunder in their first match in Glasgow this season at the revamped National Stadium – Hampden Park, this coming Sunday, May 30.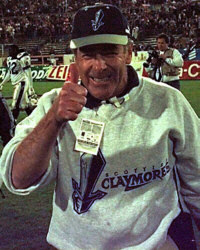 Thumbs up: Coach Criner in jubilant mood after the game
Following a 37-6 defeat in Germany last week to Rhein Fire, Criner's side had to bounce back in the Waldstadion. Afterwards, the head coach praised his side's record-setting effort, saying: "We had an awful lot to prove following the performance we had last week.


"Fortunately, our players really focused and concentrated and went out and played more like they are capable of playing. Our victory was down to a great team effort as well as some tremendous individual performances. I can't say enough about how proud I am of the way the players have bounced back."
The 77-point match set a slew of NFL Europe League single-game records including most passing yards (Dameyune Craig - 611), most receiving yards (Donald Sellers – 264) and most combined total yardage (1,073). Craig also tied the League record for most touchdown passes in a match with five while Sellers tied the League record for most touchdown catches with three.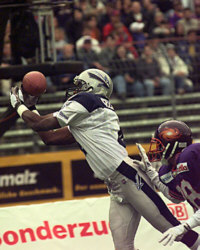 Record Breaker: Donald Seller caught 9 passes for 264 yards (a new league record) and 3 TDS (tying league record)
"We had no idea that we had chalked up so many yards," said coach Criner. " During the course of a ball game all you are really worried about is the score. It was nice to have that kind of productivity and it's nice to know our players are capable of it."
Frankfurt opened the scoring when quarterback PAT BARNES threw a 23-yard touchdown pass to wide receiver MIKE MCCULLOUGH with just four minutes gone. RALPH KLEINMANN kicked the extra point to make it 7-0.
But the Scots answered back immediately, Craig passing to full back JAMIE READER who made a huge 52-yard gain on a reverse pass. The quarterback then hit Sellers on a 14-yarder before finding the Rams allocate again for the Claymores first touchdown on a five-yard strike. ROB HART kicked the extra point and the score was tied at 7-7.
The Claymores got a huge boost two plays later when safety LEE WIGGINS intercepted Barnes at midfield. Craig marched the offence downfield with big gains to running back Jesse Haynes and tight end Shon Bell, but couldn't capitalise when he failed to get into the endzone from one-yard on a quarterback sneak on fourth down.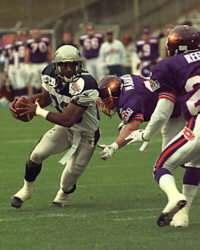 Go Yo! : Claymores all-time leading receiver had 8 catches for 149 yards and a touchdown
Two missed tackles allowed Galaxy to re-take the lead at the start of the second quarter, with Barnes again passing to McCullough - the big Arizona Cardinals allocated receiver running through the Scots defence to record a 43-yard score. Kleinmann's PAT made it 14-7.
But again, the Claymores hit back straight away – Craig stunning the Waldstadion crowd throwing a 75-yard touchdown strike to Yo Murphy who scampered down the sideline for the big score. Hart's PAT conversion brought the score level at 14-14 with 12 minutes left in the half.
Craig was firing on all cylinders now, and capped a seven-play scoring drive, with big pass gains to KEVIN DRAKE and Donald Sellers, by slicing the Galaxy secondary with a 24-yard touchdown pass to tight end Shon Bell. Hart's extra point put the Claymores ahead for the first time in the match, giving the Scots a 21-14 half-time lead.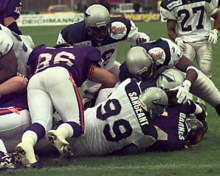 Barnes Stormers: Claymores Highland Sting defense bury Frankfurt QB Pat Barnes
The Claymores went further ahead at the start of the third quarter when Craig threw a stunning 44-yard touchdown pass to Sellers. Hart again kicked the conversion and suddenly Jim Criner's side commanded a 27-14 lead.
The Highland Sting then made its presence felt with defensive end JERMAINE BENOIT stepping up to sack Galaxy quarterback JAKE DELHOMME for an 11-yard loss as Frankfurt looked to score deep in Claymores territory.
DENORSE MOSLEY came up with a crucial interception on the next play, picking off Delhomme's pass intended for MARIO BAILEY in the corner of the endzone.
Craig tried to take advantage of the turnover heaving a 71-yard pass to Sellers, however, the Scots gave the ball back to Frankfurt when Haynes fumbled it on the next play to be recovered by Galaxy safety CORY GILLIARD.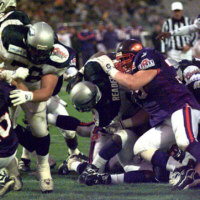 Fighting spirit: Jamie Reader battles for yardage
Frankfurt could not move the ball and Craig made amends hitting Sellers for a 36-yard gain at the start of fourth quarter. Three plays later Haynes swept into the endzone untouched on a one-yard canter. Hart kicked the PAT to make it 35-14 and the Scots looked in command with 13 minutes left in the game.
But Galaxy staged a comeback, Delhomme finding McCullough in the back of the endzone on a five yard score. And the Claymores were left to sweat it out when Craig fumbled the ball late in the fourth quarter, recovered for Galaxy by safety JAMAAL ALEXANDER. Two plays later Delhomme connected with TODD FLOYD on a seven-yard touchdown pass, Ralph Kleimann's extra point bringing Frankfurt back to within one touchdown at 35-28.
Craig silenced the Waldstadion once again though on the Claymores next offensive series when he linked up with Sellers for his third touchdown of the night on a 39-yard touchdown pass. Hart's PAT made it 42-28 in favour of the Scots, but Galaxy weren't dead yet.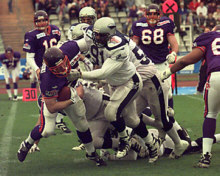 National Pride: Tom Tovo stops Mark Kacmarynski in his tracks
With just under three minutes remaining, Delhomme engineered a 77-yard, eight play scoring drive, capped with a six-yard touchdown pass to Bailey. Kleinmann's PAT again brought Frankfurt to within one touchdown at 42-35. Remarkably, Galaxy were given another chance to score when linebacker JIMMY CLEMENTS recovered possession for the home team with a successful onside kick.
Galaxy took over at their own 42-yard line with 1:24 on the clock, however, their comeback hopes were quoshed four plays later when cornerback JOEY ELOMS secured the crucial victory for the Claymores intercepting Delhomme as the quarterback attempted to link up with running back JERMIANE CHANEY in the endzone.
After the match, Craig paid tribute to his offensive line and the play-calling of the Claymores coaches, adding: "That was a great way to come back. I think we played some great football and the coaches did a great job of game planning."
And the quarterback remained critical of his own performance, despite smashing the NFL Europe League passing record completing 27 of 37 passes for 611 yards and a League record-equalling five touchdowns.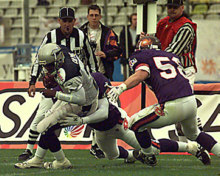 Not this time: Frankfurt finally catch up with the Claymores elusive QB
"I may have had some big numbers but I also had two turnovers that could have cost us the game," admitted Craig. "You have to look for perfection with regards the overall game plan and I could have done better. As far as the passing, I think I played pretty close to perfection although I did turn the ball over twice which could have hurt the team."
Looking ahead to this Sunday's match against Berlin at Hampden, coach Criner added: "The biggest challenge for us now is how we handle this success. Twice now we've had victories and came out and played poorly the following week. The challenge for us now is to have two good weeks in a row."
×
Claymores Left Thunderstruck by Resurgent Berlin
BERLIN THUNDER gained revenge over the Claymores for their 48 - 14 week 2 loss, beating the Scots 28 - 10 at Hampden Park in Glasgow.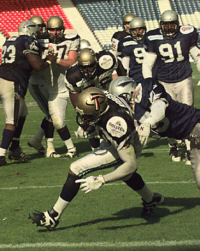 Final blow: Anthony Rodgers dives into the end zone to score Berlin's final TD of a 28 - 10 victory over the Claymores
24 unanswered points, after the Claymores had led 10 - 4 in the second quarter, saw the resurgent Thunder win their third straight game, and move back into World Bowl contention. The Scots meanwhile drop to third in the standings, behind Frankfurt Galaxy on points differential.
The game began well for the Scots, as they stopped Berlin on their opening drive. Following CHARLES PIERCE's punt the Claymores quickly moved down the field, key third down grabs from SHON BELL and YO MURPHY keeping the drive alive. And on first and goal from the 9 yard line, it was local boy SCOTT COUPER who scored the team's first Glasgow points of the year, with a leaping catch at the back of the end zone from DAMEYUNE CRAIG. ROB HART tacked on the extra point to give the Claymores a 7-0 lead.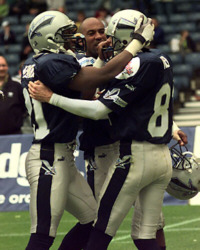 Hometown hero: Scott Couper and teammates celebrate the Glasgow boy's first score of the year
Late in the first quarter Berlin moved the ball impressively, driving from their own 16 yard line deep into Scottish territory. But a sack on third down from SHATONY SARGEANT at the start of the second quarter brought on the field goal unit. DAVID AKERS 53 yard field goal attempt sailed wide right, leaving Berlin scoreless.
Akers had another shot later in the period, this time from 51 yards out. But this time the kick came up short, and the score remained 7 -0 to the Scots.


On the first play after the restart, Dameyune Craig fumbled the snap and SCOTT FIELDS recovered for the German side. But after the Highland Sting defense held firm, it was once again up to Berlin kicker David Akers. And this time he was successful from 51 yards out, scoring 4 points under NFL Europe league rules, to reduce the deficit to 3.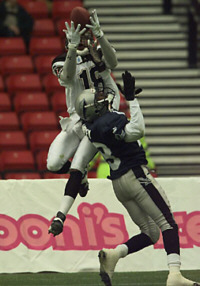 No chance: Denorse Mosley breaks up this Chris Dittoe pass in the end zone
The Claymores advantage was restored to 7 on their next possession, when Rob Hart nailed a 37 yard field goal to make the half time score 10 - 7 in favour of the Scots.
The Scots had a chance to extend that lead further on their opening drive of the second half. But Hart's 23 yard field goal attempt fell short after bouncing off the goal post.
Following the miss Berlin got the ball back at their 20 yard line, and took it 80 yards up the field, scoring on a 5 yard touchdown pass from CHRIS DITTOE to ISAAC CURTIS. Akers' extra point gave Thunder a 1 point lead, 11-10.
And things got worse for the Claymores when they got the ball back, as Thunder's Scott Fields got his second turnover of the game, intercepting Dameyune Craig and returning the ball to the Scotland 30. And following a string of penalties Berlin moved further in front a few plays later, as JUSTIN WATSON ploughed into the end zone from a yard out. Akers' extra point made Thunder's advantage 18 - 10.

Big rush: Emile Palmer powers his way through the Berlin line
Akers increased the visitors' lead to 11 points when he booted another field goal, this time from 48 yards. And the scoring was completed in the fourth quarter when MVP Dittoe threw his second touchdown pass of the game, this time 6 yards to ANTHONY RODGERS. Akers fifth successful kick of the match rounded out the scoring, as the Thunder won their third straight game, 28 - 10.
The loss gives the Claymores a 4 - 3 record, putting them in level second place with Frankfurt Galaxy. Berlin are now just one game behind that, on 3 - 4.
Following the game Claymores head coach Jim Criner once again praised the fans for their support, and said he would do everything in his power to return to winning ways in Barcelona next week.
In other action this weekend, Frankfurt's Mario Bailey and Rhein's Derrick Clark continued their touchdown battle. Both players took their record career tallies to 21, in a close game which the Galaxy narrowly won 21-20.
In Amsterdam, the Barcelona Dragons returned to the top of the table, coming from behind to beat the hometown Admirals 28 - 17.
×
Phillips Breaks Records and Scottish Hearts
It was pain in Spain once more for the Claymores on Sunday night, as they lost out 42 - 35 to the Barcelona Dragons. Dragons' LAWRENCE PHILLIPS ran for 188 yards, and broke several league records to lead his team to victory.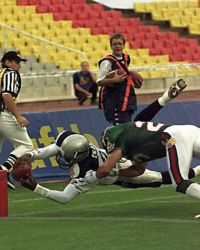 Diving in: Dameyune Craig scores the Claymores opening TD, but it was in vain as they went down 42 - 35 to Barcelona
The former Miami Dolphin and St Louis Ram set new records for most rushing touchdowns scored in one season (12), most rushing yards in one season (893), and tied Siran Stacy's record for most 100 yard games in one season (4).
On their opening drive the Claymores moved the ball well, to set up ROB HART with a 33 yard field goal attempt. However the London-born kicker's attempt went wide left, and the Claymores cam away scoreless.
The team's second possession, following a Barcelona punt, proved to be more successful. Taking the ball from their own 36 yard line, the Scots drove all the way down the field, scoring on quarterback DAMEYUNE CRAIG's 13 yard scramble. Hart's extra point put the Claymores 7 - 0 up early on.
Former Barcelona FC goalkeeper JESUS ANGOY put the Dragons on the board when they got the all back, with a 49 yard field goal, reducing the deficit to 4.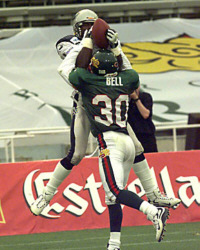 Wrestling time: Donald Sellers grapples for the ball with Ricky Bell
An interception from Craig, the first of three, stopped the Scots next drive, but the defense held firm, forcing Barcelona to punt the ball away. And this time there were no mistakes.


A 21 yard grab by YO MURPHY on third and long kept the drive alive, and seven plays later Craig found DONALD SELLERS in the end zone for a 6 yard touchdown. Hart once again booted the extra point and the Claymores lead was now 14 - 3.
And they were able to extend that lead further, after TOM TOVO recovered a Lawrence Phillips fumble, to give the visitors first and goal at Barcelona's 10 yard line.
Two plays later JESSE HAYNES ran the ball in from 4 yards out, and with Rob Hart's extra point the Claymores now had a commanding 21 - 3 lead.
But the scoring wasn't over yet. KEVIN DRAKE took a Craig pass 48 yards, skipping over a would be tackler, for another Scotland TD. Hart again was good, to give the Claymores a 25 point advantage.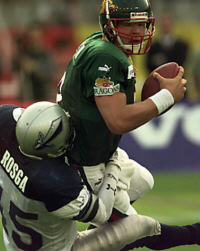 Going down: Steve Rosga sacks Todd Bouman for a 6 yard loss
Barcelona managed to reply before halftime though, as BRIAN FINNERAN leapt above the Scottish secondary to grab a 20 yard TODD BOUMAN pass for a touchdown. Angoy hit the extra point, making the half-time score 28 - 10 to the Claymores.
The deficit was cut to 28 - 17 on the Dragons opening drive of the second half, as Lawrence Phillips set a new league record with his 10th rushing touchdown of the season. And following a Claymores punt, Jesus Angoy made it an 8 point ball game, with a 35 yard field goal.
Jesse Haynes returned the following kickoff to the Claymores' 40 yard line. And it was Haynes who capped the drive, scoring his second TD of the night on a 2 yard run. Rob Hart's fifth extra point restored the difference to 15 points in favour of the Claymores.
But still the Dragons refused to be put to the sword. Phillips scored his 11th TD of the season to make the score 35 - 26. The Dragons elected to go for a 2 point conversion, and Brian Finneran caught a Bouman pass to bring the Catalan side within 7 points for the first time since the opening period.
And then it all seemed to go wrong for the Claymores. Dameyune Craig threw an interception to TRISTAN MOSS, giving the Dragons the ball at the Claymores 22. A 39 field goal attempt from Angoy went wide right, but 3 plays later the Spaniards got another shot, as Craig fumbled the ball as he was sacked, and BARRY MITCHELL recovered.
Tight end SCOTT DRAGOS found the end zone on a 23 yard scoring catch, and Angoy's extra point levelled the score at 35 apiece.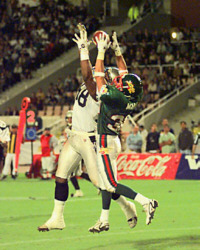 My ball: Shon Bell can't quite reach this pass, as Greg Malo picks off Dameyune Craig
The Claymores looked as if they would retake the lead on their next possession, driving down the field to the Dragons' 22. But Craig overthrew SHON BELL under pressure, and was picked off in the end zone by French national GREG MALO.
Phillips then capped a record breaking performance with a 72 yard touchdown run to win the game for Barcelona. Scotland had one more shot, but time ran out on an offensive penalty, and Barcelona hung on to win 42 - 35.
The Claymores are now without a win in 5 attempts in Barcelona. But more importantly this loss leaves them in third place in the NFL Europe League standings, a game behind Frankfurt Galaxy. Barcelona move to 6 - 2 and need just one more win to secure their World Bowl berth.

×
Claymores World Bowl Hopes Dashed by Admirals
The Scottish Claymores hopes of reaching World Bowl 99 were extinguished at Hampden Park, after the Amsterdam Admirals pulled off a 29-20 victory to lift the Zanussi Kitchen Team Cup in front of 10,415 fans.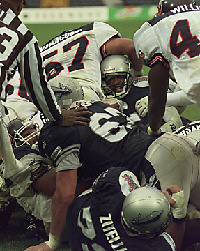 Down and Out: Dameyune Craig looks out from the bottom of a pile up
Combined with Frankfurt Galaxy's victory over Berlin Thunder, the Scots fifth loss of the NFL Europe League campaign ensured their elimination from the title race and guarantees Frankfurt Galaxy a berth in World Bowl '99.
After both teams had traded possessions in the opening stages, the Claymores were put under pressure after Admirals quarterback Dan Gonzalez had driven his team to the Scots 20 yard line.
But the Claymores got a break when Joey Eloms tipped a Gonzalez pass which was intercepted by fellow defensive back Tony Watkins.
Six plays later, Craig threw a short pass to Jesse Haynes who turned it into a 52 yard touchdown romp to open the scoring in the Claymores favour.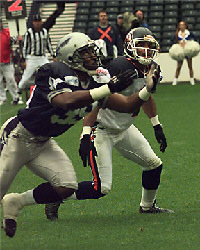 That's Mine: Tony Watkins watches the ball as he picks off Gonzalez
Rob Hart kicked the PAT and the Scots led 7-0 with four minutes to play in the first quarter.
The Admirals hit back at the start of the second quarter when replacement Jim Kubiak dived in from on yard out on a quarterback sneak. However the Dutch failed to draw level with kicker Silvio Dilberto pulling his PAT attempt wide, making it 7-6 to the Scots with 12 minutes gone.


The Claymores moved further ahead eight minutes later when Rob Hart kicked a 32 yard field goal to give his team a 10-6 lead.
The Highland Sting defense turned the screw on the Admirals next possession saw Aaron De La Torre stepping up to sack Kubiak twice on successive plays, forcing the Dutch to punt.
But it wasn't long before the Admirals were running again, Kubiak directing a 8- yard scoring drive, capped by a one yard run from David Thompson.
The Admirals went for the two point punt conversion, but Kubiak's pass fell incomplete giving the Dutch a 12-10 half time lead.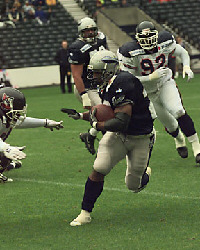 Big Score: Jesse Haynes opens the scoring for Scotland with a 52 yard TD catch
Amsterdam added to their lead at the start of the of the second half when Francesco Biancamano booted a 38 yard field goal to make it 15-10 to the visitors.
Craig linked up with Yo Murphy on a 39 yard completion to put the Claymores at the Dutch end, however the Scots had to settle for a 26 yard field goal from Rob Hart to make it 15-13 with 6:05 to go in the third quarter.
The Claymores looked to have taken the lead when Craig scrambled nine yards to the endzone, following a 38 yard gain from Jesse Haynes. However the officials ruled the quarterback short, denying him the score. On the next play, it got worse for Craig when he was intercepted by Clyde Johnson in the corner of the end zone while attempting to find Yo Murphy.
The Admirals capitalised on the turnover when Kubiak threw a 16-yard touchdown score to Jason Shelley.
Francisco Biancamano kicked the PAT and gave Amsterdam a 22-13 lead with 12 minutes remaining in the game.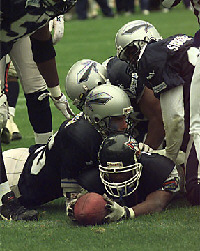 Tight squeeze: David Thompson scores for Amsterdam, despite several Claymores bodies
The Claymores cleared their way into the game four minutes later when Jesse Haynes capped a fine play 71 yard scoring drive run into the endzone after accepting a 15 yard touchdown pass from Craig.
Rob Hart PAT brought the Scots back to within two points at 22-20 with eight minutes left to play.
The Admirals re-took control of the contest when Kubiak hit Joe Douglass on a 19 yard touchdown pass. Biancamano's PAT made it 29-20 to the Admirals with 2:12 left to play.
The Claymores pushed up field in the closing two minutes, Dameyune Craig hitting Yo Murphy for first nine then 30 yards on successive plays. Haynes and Michael Jenkins advanced the ball further by nine yards apiece but Scotland's time ran out as Craig was intercepted by Admirals' Shane Doyle with 56 seconds left, leaving the Dutch to run down the clock for victory.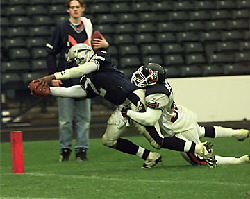 Close Call: Dameyune Craig dives for the end zone, but is ruled down just outside
"I think Jim Kubiak has done something great for our team," commented Admirals head coach Al Luginbill afterward. "He has given us great leadership and that plus a couple of breaks today meant we won. In this league it is hard to get a win and I think it's going to get harder."
Frankfurt booked their spot in June 27's World Bowl finale with a 21-19 win over Berlin, The Galaxy will face either Rhein Fire or Barcelona Dragons' in the NFL Europe League's showdown game, which takes place in the Fire's own stadium in Dusseldorf.
×
Claymores Sink Again in Amsterdam
THE Claymores ended their 1999 NFL Europe League season on a low note in Amsterdam suffering a hard-fought 30-22 loss to Al Luginbill's Admirals.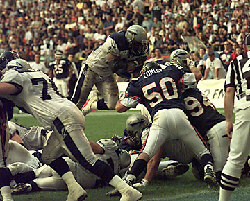 Over the top: Jesse Haynes launches himself over the Amsterdam goalline
Carolina Panthers quarterback Dameyune Craig threw 20 passes for 296 yards ending a remarkable season just 33 yards shy of Dave Archer's long-standing passing yardage record and cornerback Cliff Shamburger made three interceptions as the Claymores staged a fighting comeback in the dying minutes of the fourth quarter.
That comeback came to an end when the officials ruled St Louis Rams wide receiver Donald Sellers was out of bounds on an end zone catch before Craig threw his third interception of the night to Admirals safety Greg Williams.


The loss dropped the Claymores to 4-6 - the club's fourth straight defeat - underlining a disappointing end to what looked like, at the mid-point of the season, a realistic assault on the World Bowl.
Afterwards head coach Jim Criner, said: "Amsterdam had a great game plan and between that and the crowd noise, we faced a tough test.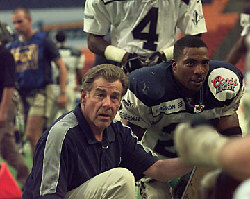 Testing time: Coach Criner makes some adjustments during the match
"I was very proud of the way our team played tonight, despite a couple of offensive miscues which put our defence on the field too much during the second and third quarters. But I was very happy at the way we fought and came back - unfortunately we just came up short at the end."
The Claymores got off to a great start when Shamburger nullified a 10-play opening drive by the Admirals intercepting Amsterdam quarterback Jim Kubiak at the Scots two-yard line.
The Claymores offense was slow to start though and the Admirals took advantage when Kubiak linked up with wide receiver James Kidd on a 26-yard touchdown pass. Silvio Diliberto hit the upright with his PAT conversion attempt and the Admirals led 6-0 with 10 minutes gone.
The Scots got another break at the end of the first quarter when Admirals running back Joe Aska fumbled the ball and safety Lee Wiggins recovered it at the Dutch 34 yard line.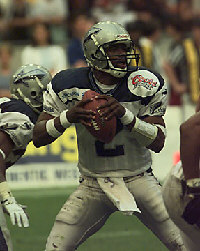 Just short: Damyeune Craig finished the season 33 yards short of Dave Archer's season yardage record
Craig took advantage of the turnover directing his team downfield on a four-play scoring drive capped by a one-yard sweep into the endzone from Kansas City Chiefs running back Jesse Haynes. Rob Hart kicked the extra point with ten minutes to play in the half giving the Scots a 7-6 lead.
That lead was shortlived however when, on the restart kickoff wide out James Kidd resturned the ball 90 yards for the score - the first time a kickoff return has been allowed by the Claymores. Diliberto made amends for his earlier miss converting the PAT and the Admirals led 13-7.
The Claymores misery was compounded on their next offensive play when Craig, going deep for Vernon Turner, was intercepted by Admirals safety Greg Williams. The turnover was again nullified by Shamburger who stepped up to intercept Kubiak for the second time ending the half 13-7 in favour of the Admirals.
The second half didn't start well for the Claymores when a Craig pass intended for Scott Couper bounced off the Glaswegian receiver's helmet and was intercepted by safety Greg Williams at midfield.
The Admirals turned the turnover into points when Francesco Biancamano converted a 29-yard field goal 11 plays later giving Amsterdam a 16-7 lead with seven minutes gone in the second half.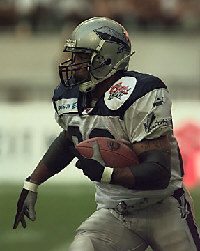 Hero Haynes: 2 touchdowns for Jesse weren't quite enough for the Claymores
The Scots offense finally exploded into life on their next possession, Craig linking up with Sellers on 37 and 28 yard passes which allowed Chiefs loaned rusher Haynes to cut back into the endzone on a one-yard touchdown run.
Hart booted the PAT and the Claymores were back in the game - down 16-14 with five minutes to play in the third quarter.
The Claymores got great field position at the start of the fourth quarter when Sellers blocked an Admirals punt giving the Scots possession at the Dutch 14. Craig found it impossible to move the ball under heavy Admirals pressure and the Claymores had to settle for a 31 yard field goal attempt by Rob Hart.
But the Englishman's kick was blocked and returned to midfield by cornerback Clyde Johnson. Five plays later the Admirals took advantage of the error when Kubiak hit Kidd in the endzone on a six-yard touchdown strike.
Diliberto converted the extra point and Amsterdam were back in command, 23-14 in front with ten minutes left in the game.
David Thompson continued to taunt the Scots and burned the Claymores defense with a scorching 62 yard run. Kubiak then linked up with tight end Cory Geason on a six yard touchdown pass.
Diliberto kicked the extra point, and down 30-14 with six minutes to play it was looking grim for the Bravehearts.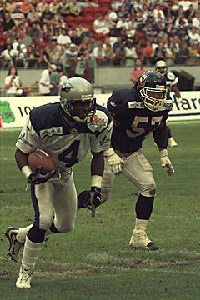 Big ending: Sellers caught a TD, a 2 point conversion, recovered an onside kick and almost had another TD in the dying minutes
However, the Claymores would not submit with Craig hitting Sellers on a five yard touchdown pass with two minutes to go. Sellers also latched on to the two-point conversion pass bringing the score back to 30-22.
The Rams wide out then recovered the onside kick giving the Claymores one last chance with 2:33 to play and Craig looked to have scored on a 15 yard pass to Sellers, but the referees ruled the receiver out of bounds.
On the next play the quarterback threw the ball towards the end zone only to see it intercepted again by Williams - his third pick of the night ending the Scots hopes of a comeback.
Coach Criner said: "Amsterdam had a big play with the kick-off return for a touchdown which just took the wind out of our sails. We'd just scored when they did that and it took a while for us to get over it. Once we did though I was proud of the way our guys fought back.
"Three weeks ago we felt really good about getting to the World Bowl but we fell on hard times in the run in not playing well enough when we had to.
"It has been a tough one on the coaches and the players because we had been having a good season until the last few weeks. We just have to sit down look at it and do a better job next year."