Scottish Claymores
THE Scottish Claymores are Britain's representatives in the six-team NFL Europe League playing against opposition from Amsterdam, Barcelona, Berlin, Dusseldorf and Frankfurt during an 11-week season from April to June. Each NFL Europe League season culminates in the World Bowl which, in season 2003, was played in Glasgow on June 14. The NFL Europe League is allied to the National Football League - America's biggest sports league. All six NFL Europe League teams are owned and operated by the NFL.

Each NFL Europe League team consists of 34 American players; eight home-based 'national' players and one additional quarterback of any nationality.

The quality of play in the League is second only to the NFL itself. Over 200 players were allocated to the NFL Europe League from 32 NFL teams for the 2003 season.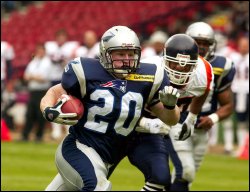 The Atlantic crossing works both ways. The number of Claymores graduating back to NFL teams continues to grow, with as many as 30 former stars playing for NFL teams during the 2002 season. Furthermore, there was double joy for the Claymores as Barry Sims and Aaron Stecker played for the Oakland Raiders and Tampa Bay Buccaneers respectively at Super Bowl XXXVII.

Team History
Team Name: The Scottish Claymores are named after the historical two-edged sword formerly used by warriors of the Scottish clans.
Team Colours: Blue, Silver and Black
Stadium: Hampden Park, Glasgow

Established in 1995, the Claymores posted a disappointing 2-8 record in their inaugural season at Murrayfield Stadium led by head coach Jim Criner. The next season the club bounced back from worst to first, recording a 7-3 regular season standing, including a 4-1 record to be crowned first-half champions. The Claymores hosted World Bowl '96, defeating Frankfurt Galaxy 32-27 in front of 38,982 fans at Murrayfield on June 23.

In 1997, the Claymores broke even with a 5-5 regular season record but in 1998 suffered crippling injuries and finished with a 2-8 mark. The Claymores played for first time in Glasgow at the National Stadium Hampden Park during the 98 season - Week 8 loss to Frankfurt.

In 1999, quarterback Dameyune Craig led the Claymores to three wins from their opening four games and threw for an NFL Europe League single-game record 611 yards in a dramatic 42-35 win at Frankfurt in Week 6. That performance earned Craig recognition from the Pro Football Hall of Fame in Canton, Ohio, however, despite the young quarterback's efforts, the Claymores could not maintain a winning consistency, fading in the second half of the season to finish 4-6.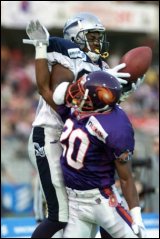 Season 2000 saw the Claymores continue to play home games at Hampden and Murrayfield before a return to the World Bowl on the back of a 6-4 winning season. Two Claymores players earned League MVP honours with Tampa Bay Buccaneers allocated running back Aaron Stecker awarded Offensive Player of the Year Honours and Dallas Cowboys allocated cornerback Duane Hawthorne Defensive Player of the Year. However, the Scots were denied ultimate glory losing 13-10 to Rhein Fire in a thrilling finale at Frankfurt's Waldstadion - long-time head coach Jim Criner's last game with the club.

Gene Dahlquist took over as head coach for the Claymores in season 2001 and posted a 4-6 record, with all home fixtures played at Hampden Park for the first time.

Hampden Park lays claim to being the world's oldest football stadium, established in 1867. It holds the record for the largest attendance at a sporting event in Britain when, in 1937 a staggering 149,415 crammed into its stands to watch Scotland play England in a Home International match. Scotland's National Stadium has recently undergone a £63 million, seven-year re-development making it one of Europe's premier sporting stadia with a capacity of 52,500.
Individual Records – Career
Category
Name
Performance
Rushing (yds)
Siran Stacy (1995-97, 2000)
2,350
Rushing (TDs)
Siran Stacy (1995-97,2000)
16
100-yard rushing games
Siran Stacy (1995-97,2000)
10
Passing (yds)
Dameyune Craig (1999)
2,932
Passing (TDs)
Dameyune Craig (1999)
21
Receiving (No.)
Yo Murphy (1996-97, 99
113
Receiving (yds)
Yo Murphy (1996-97, 99)
1,609
Receiving (TDs)
Donald Sellers (1999-2000)
Scott Couper (1995-2001, 2003)
12
Interceptions (No.)
George Coghill (1995-97)
7
Sacks
Chris Ward (2000-01)
13.0
Tackles (solo + assists)
George Coghill (1995-97)
183
Punting (Avg)
Chris Dolan (1999)
46.0
Kickoff Return (Avg)
James Rooths (2003)
26.4
Punt Return (Avg)
Damon Gibson (2000)
14.9
Field Goals (No.)
Rob Hart (1999-03)
50
Points
Rob Hart (1999-2003)
289

Individual Records – Season

Category
Name
Performance
Rushing (yds)
Herbert Goodman 2002
873
Rushing (TDs)
Ken Simonton 2003
8
Passing (yds)
Dameyune Craig 1999
2,932
Passing (TDs)
Dameyune Craig 1999
21
Receiving (No.)
James Whalen 2001
66
Receiving (yds)
Sean LaChapelle 1996
1,023
Receiving (TDs)
Sean LaChapelle 1996
Donald Sellers 1999
7
Interceptions (No.)
George Coghill 1996
James Fuller 1996
5
5
Sacks
Chris Ward 2001
7.5
Tackles (solo + assists)
George Coghill 1996
61
Punting (Avg)
Chris Dolan 1999
46.0
Kickoff Return (Avg)
Eric Smith 1997
26.3
Punt Return (Avg)
Damon Gibson 2000
14.9
Field Goals (No.)
Rob Hart 2001
16
Points
Jesse Haynes 1999, Aaron Stecker 2000
66

Individual Records – Single Game

Category
Name
Performance
Rushing (yds)
Siran Stacy (@ Rhein 14/5/95)
175
Rushing (TDs)
Ken Simonton (vs Berlin 6/4/03)
4
Rushing TD (Longest)
Maurice Hicks (vs Berlin 6/4/03)
93
Passing (yds)
Dameyune Craig (@ Frankfurt 22/5/99)
611
Passing (TDs)
Dameyune Craig (@ Frankfurt 22/5/99)
5
Passing (Longest)
Dameyune Craig to Jesse Haynes (@ Berlin 24/4/99)
86t
Receiving (No.)
Siran Stacy (vs Barcelona 27/5/95)
13
Receiving (Yds)
Donald Sellers (@ Frankfurt 22/5/99)
264
Receiving (TDs)
Donald Sellers (@ Frankfurt 22/5/99)
3
Receiving (Longest)
Scott Couper (@ Barcelona 16/6/96)
76t
Interceptions (No.)
8 Times (Last time, Robbie Robinson (vs Berlin 6/4/03)
2
Int Return (Longest)
Joey Eloms (vs Frankfurt 5/2/99)
90t
Sacks
Radell Lockhart (@ Barcelona 31/5/03)
3
Tackles (solo + assists)
George Coghill (@ Frankfurt 22/4/95)
Alan Campos (vs Frankfurt 2/5/99)
13
Punting (Ave)
Jon Ballantyne (@ Amsterdam 3/6/00)
51.0
Kickoff Returns (Ave)
Eric Smith (@ Barcelona, 14/6/97)
47.3
Punt Return (Ave)
JJ Moses (vs Barcelona, 14/4/02)
26.3
Field Goals (No.)
Rob Hart (@ Berlin, 2/6/01)
4
Field Goals (Longest)
Paul McCallum (vs London 9/6/96)
51
Points
Ken Simonton (vs Berlin 6/4/03)
24
League Records held by Claymores
Most Consecutive Games Scoring:
45, Rob Hart, 1999-present
Most Touchdowns, Game:
4, Ken Simonton, vs Berlin 6/4/03
Most PAT attempted, Career:
159, Rob Hart
Most PAT attempted, Season:
38, Rob Hart, 2003
Most PAT attempted, Game:
8, Rob Hart, vs Berlin 6/4/03
Most Consecutive PAT:
140, until 10/5/03
Most Field Goals Attempted, Career:
65, Rob Hart 1998-2003
Most Field Goals Scored, Career:
53, Rob Hart 1998-2003
Most Safeties, Season:
1, Robbie Robinson
Most Games 100 or more yards rushing, Season:
4, Ken Simonton RB
Longest Run from Scrimmage:
93 yards, Maurice Hicks, vs Berlin 6/4/03
Most Rushing Touchdowns, Game:
4, Ken Simonton, vs Berlin 6/4/03
Most Yards Gained, Season:
1673, Ken Simonton 2003
Most Yards Gained, Game:
271, Ken Simonton, vs Berlin 6/4/03
Team Records set in 2003
Most Points, Season:
303
Most Points, Game:
62
Most Points, Both Teams, Game:
93 (Scotland 62, Berlin 31), 6/4/03
Most Points, Both Teams, First Half:
59 (Scotland 28, Berlin 31), 6/4/03
Most Points, Both Teams, Second Quarter:
35 (Berlin 21, Scotland 14), 6/4/03
Most Touchdowns, Season:
39
Most Touchdowns, Game:
8, vs Berlin 6/4/03
Most Touchdowns, Both Teams, Game:
12 (Scotland 8, Berlin 4), 6/4/03
Most PAT, Season:
37
Most PAT, Game:
8, vs Berlin, 6/4/03
Most PAT, Both Teams, Game:
12 (Scotland 8, Berlin 4), 6/4/03
Most First Downs, Season:
227
Most First Downs, Game:
31, @ FC Barcelona 31/5/03
Most First Downs, Both Teams, Game:
54 (Scotland 28, Berlin 26) 6/4/03
Most Yards Gained (Rushing and Passing), Season:
4169
Most Consecutive Games, 400 or more yards gained:
3, 24/5/03-present
Most Consecutive Games, 300 or more yards gained:
7, 27/4/03-present
Most Rushing Yards, Season:
1606
Highest Average Gain, Rushing, Season:
5.7
Most Touchdowns, Passing, Season:
26
Fewest Punts, Season:
35
Fewest Fumbles Lost, Season:
4